About RenDel RV in Rice, TX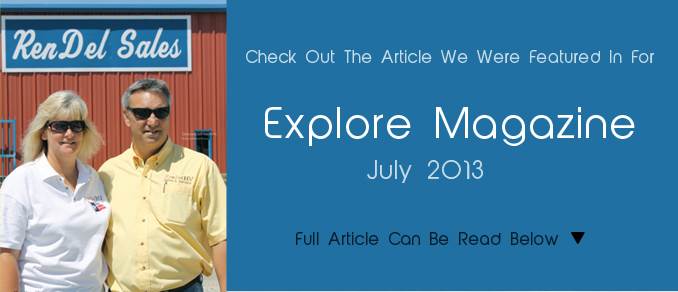 Jeff and Dana Needham
We started RenDel RV to provide quality pre-owned RV's to the public at affordable prices. Our company is family owned and operated. Our belief is based around that our customers' needs are of the utmost importance and our entire family is committed to meeting those needs. Jeff and I personally choose the Recreational Vehicles on our lot. If we don't love it, we don't own it!
We would welcome the opportunity to earn your trust and deliver you the best service in the industry. Please give us a call or text us at 903-326-4080 or send us an email and we would be happy to answer any of your questions.
We look forward to meeting you.
Insurance Claims
We specialize in all major insurance repairs. No matter how big or small our team handles all insurance claim needs. From helping you file your claim to completely replacing your roof you may have accidentally damaged.
Explore Magazine
Couple living life on their terms.
by Deanna Kirk
Working hard is a part of life, but playing hard is equally important.
Dana and Jeff Needham set specific goals with regard to work, so that now they are able to enjoy the fruits of their labor, while also doing what they love.
The former Dana Tanner graduated from Corsicana High School in 1987, and received a Collins Scholarship. Because the burden of working while going to school was lifted from her, she was able to breeze through Navarro College in one year, then transfer to Stephen F. Austin University. Armed with her BBA in business administration and finance, she was unable to find a job in her field, so she took a job in a manager training program with K-Mart.
"I decided I'd rather have a job than have no job." she said, laughing.
After three months at the K-Mart by Navarro Mall, she transferred to Austin, then to Sweetwater. After a series of jobs, some simultaneous, as well as moves, she ended up living back in Corsicana with her mother, Lynda Tanner, and working at the just-opened Super K-Mart on West Highway 31.
"I tried to find a job in the finance field, but it's hard when you have no experience," Dana said. "I set a goal to send out five resumes every week, regardless what I thought my chances were of getting the job."
Meanwhile, while in the receiving stockroom at K-Mart, Dana met a dashing, handsome man when he stopped to deliver some freight. Jeff Needham, originally of Grand Prairie, was also smitten with Dana, and thus began their romance.
In late 1996, Fidelity Investments in Dallas offered Dana a job, which she accepted gleefully, and began studying in earnest to get her Series 7 license in 90 days.
"I got my license, got married and built a house – all within a year." she said.
"In college, I was infatuated with teh stock market and wanted to work with that. Basically, I wanted to make money and retire early."
Always goal-oriented, Jeff and Dana sat down and talked about what they wanted their goals to be. They share the belief that not only do you need a road map if you're going on a trip, you need a plan of action, or "road map" for life, as well. They agreed that 10 years from then they didn't want to be working for other people, and began to develop their entrepreneurial spirit.
In 1999, Jeff began a business in Ennis called Affordable CDL Assistance, where he assists people in earning their Class A Commercial driver's licenses. In 2004, Fidelity Investments moved their operation from Dallas to Westlake, increasing Dana's commute from her home in Ennis to work 88 miles away.
A building they'd constructed in Rice and had leased for four years went vacant due to the economy, and when it hit the six month mark of being vacant, the Needhams decided the time might be right to branch out and start their new venture.
And RenDel Sales was born.
"We take some risks, but they're calculated." she said. "I kept my job but moved to evening shift. I sold campers in the morning, then went to Fidelity in the afternoon. My mom would come in and handle things here at RenDel until Jeff showed up."
Indeed, RenDel Sales is quite the family affair, with nephew Colton Tanner working their since opening in 2009, now through the work program at Corsicana High School, and brother Mike Tanner proving to be a popular salesman on Saturdays.
Originally, the plan was to sell motor homes. The Needhams went to purchase their first inventory, and found they could buy one motor home, or five used travel trailers. They opted for the travel trailers.
"Everybody said we couldn't have picked a worse time to get in this business, since many dealerships were closing." Dana said.
Once they were selling new RVs, and had financing available for those who wished to use it, they were finally at a place where Dana felt it was okay to leave her job of 15 years.
"I enjoyed the people at Fidelity, made good money, and had great benefits," she said, "It was really hard to quit. But, I am really happy I did, because we really enjoy this."
RenDel RV tries to keep about 50 units on its lot, and also has a master certified technician with 25 years of experience in Elton McGuire. They do warranty and drive-in work.
"We've been getting more service work, and selling more campers." Jeff said. "We'll have to expand next year, to keep 65 to 70 campers on the lot."
Customer service, a quality instilled at Fidelity, is key to the RenDel business model.
"We try to provide good service, and shoot you straight," Dana said. "We can do everything a big dealership can do, but we're right here."
Currently a dealer of Forest River, Keystone, & Riverside Retro, plans are to grow and carry more manufacturers' lines. They plan to expand the lot, and erect another building. They also want to add to their staff.
"And at some point, we'd like to be able to relax!" Dana said.